BRAISED PORK KONG BAK BURGER
Serves 2 | Prep time: 30 mins | Cook time: 120 mins
Ingredients
500g Lean Pork Belly
4 slices Ginger
4 pcs star anise
6 cloves garlic
1 stick cinnamon stick
4pcs bay leaf
2 dried honey dates
30g rock sugar
50ml cooking wine
80ml chicken stock
100ml light soya sauce
100ml dark soya sauce
1/2 teaspoon cornstarch
200ml water (or enough to cover the top of the pork slices in a pot)
Instructions
1. Clean and cut lean pork into strips of approx. 1.5cm wide and 6cm long. Rinse with boiling hot water.
2. In a medium pot, dry fry the aromatics before adding the rest of the ingredients and boil at medium heat for 10 minutes.
3. Transfer pork belly into the pot with skin facing up. Add more water if needed to make sure pork is fully submerged. Bring to boil for 5 minutes then lower to medium heat to cook for 2 hours or until the pork is tender and can be skewered through with a chopstick
4. While cooking, turn the pork every 30 minutes to allow the meat to be cooked evenly. Remove meat from the pot once it is cooked to let it cool. Reduce the sauce into a thick consistency by adding some cornstarch.
Instructions - Assembly
Slice prepared pork belly into 1 cm thickness and serve with lotus buns or brioche burger bun. Drizzle over the reduced sauce and top with green such as Chinese parsley, alfalfa and sliced tomato.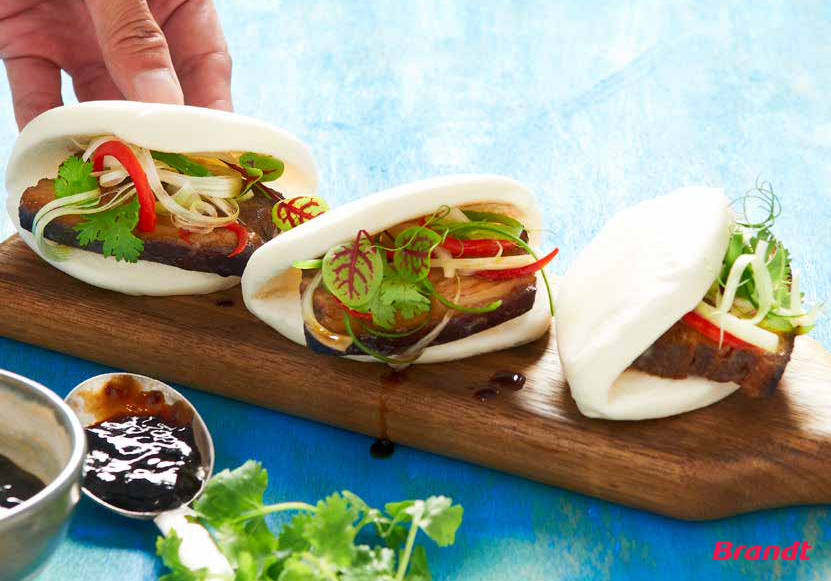 Recipe courtesy of The Bread Table
*visit a recipe converter website to increase/ decrease your ingredients to your needs! -- sometimes, simply dividing or multiplying the ingredients may not be appropriate.