Pan seared scallop roasted pumpkin puree
Serves 2 l Prep Time 15 minutes l Cooking Time 75 minutes.
Ingredients
6 x scallops
1/4 lemon
4g knob of buttersalt and pepper
300g pumpkinknob of butter
olive oil
salt and pepper
2 tbsp milk
10g green apple
10g watermelon
10g pineapple
1 tbsp lemon juice

Instructions
SCALLOPS
1. Dry the scallops completely with kitchen towels by pressing gently on the towel to absorb excess moisture. Season lightly with salt and pepper.
2. Heat the pan until smoke is visible. Drizzle olive oil into the pan. Place scallops at theedge of the pan in a clockwise direction. Cook for about 1 minute without moving thescallops. Flip the scallops one by one in the clockwise direction. Cook for another 1minute.
3. Add in another knob of butter. Add in juice from 1/4 lemon after butter has melted. Tilt the pan sideways and baste the scallop.

PUMPKIN PUREE
1. Cut the pumpkin into chucks with the skin on. Transfer to baking tray. Drizzle olive oilgenerously over the pumpkins. Season with salt and pepper. Roast in the oven for 60minutes at 190¡C.
2. Remove the skin from the roasted pumpkin pulp and put them into a blender. Add a knobof butter and 2 tablespoons of milk. Blend on medium setting until desired consistency.
3. Garnish with fruits diced into tiny cubes. Transfer into a bowl. Add 1 tablespoon of lemon juice. Mix them well.


Serving Suggestion
1. Score the scallops gently before searing for extra crispness.
2. You may replace the pumpkin puree with carrots instead.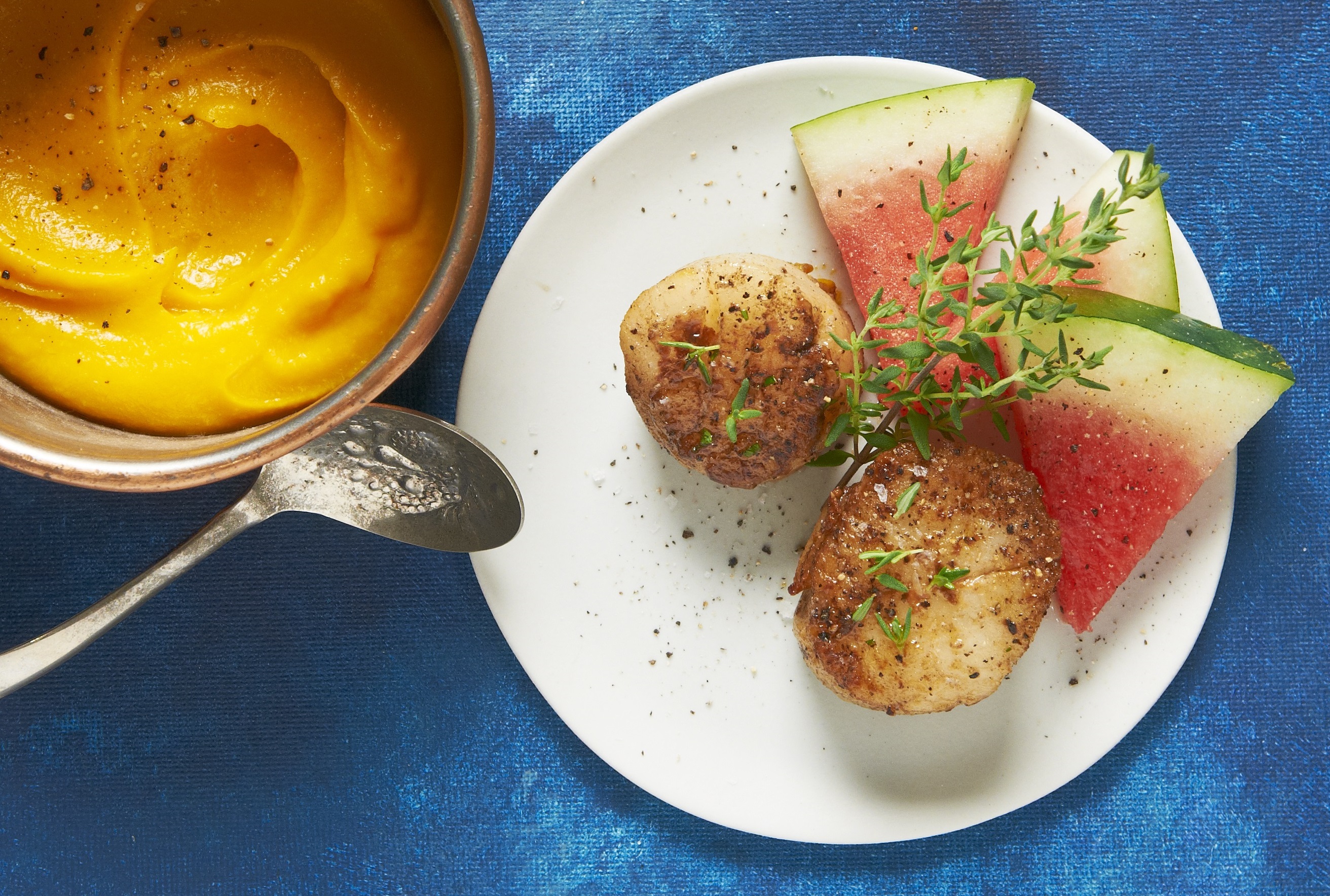 This recipe was contributed by Home-Chef Xiao Shun Yu. Follow his culinary adventures on Instagram!